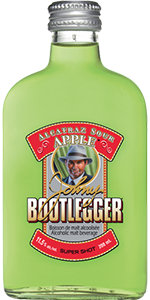 Johny Bootlegger
Malt Beverages
Johny Bootlegger Product Information
Prohibition never tasted so good! Johny Bootlegger was inspired by the colorful times of the 1920s, when snappy dressers, good times – and bootleg brews – ruled the scene. This line pays homage to the creative cocktails invented in speakeasies of the Prohibition era. Johny Bootlegger gives you what you want: a tasty, spirited beverage with a nice alcohol content. Remember: Moderation is the best action.
Johny Bootlegger offers seven unique flavors to get the joint jumpin'!
Apple Shot: Alcatraz Sour Apple busts out with a taste like biting into a slightly underripe apple, but sweeter
Watermelon Shot: Juice Joint Watermelon is Johny's newest flavor. Enjoy the most refreshing fruit with Johny's special touch.
Grape Shot: Sing Sing Sour Grape is a sweet and sour crush breaking out all over your tastebuds
Strawberry Shot: There's nothing shady about Shady Shades Strawberry. Dazzle your tastebuds with America's favorite fruit.
Peach Shot: Chill with all the taste of a juicy peach without the pit or fuzz with Syndicate City Sour Peach.
Black Cherry Shot: Prison Break Black Cherry offers genuine black cherry flavor with a punchy finish. Skip the pits with Johny's crew.
Raspberry Shot: Scarface Sour Raspberry brings all the sweetness to your tastebuds with the slightly sour zest of tasty little berries.
12.0 percent alcohol by volume. 150 calories per 6.8-ounce serving.
Geloso Beverage Group – Rochester, New York
Buy Code: Y – JB BOOTLEGGER
30510 JB SOUR PEACH 200 ML
---
31510 JB STRAWBERRY 24/200 ML
---
34510 JB BLACKCHERRY 200 ML
---
35510 JB RASPBERRY 200 ML
---
36510 JB ORANGE
---
37510 JB SING GRAPE 200 ML
---
38510 JB SOUR APPLE 200 ML
---
39510 JB MELON 200 ML
684746800423
---
684746500101
---
684746500118
---
684746355107
---
684746300176
---
684746375105
---
684746385104
---
684746395103