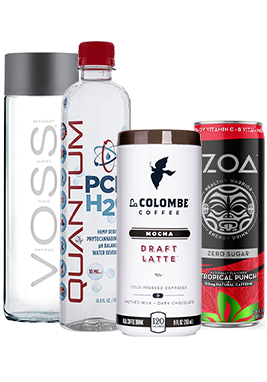 Non-Alcoholic Beverages –
Tygart Valley Distributor in Elkins
For Barbour, Pocahontas, Randolph, Tucker & Upshur County WV Retailers
Tygart Valley Distributor get non-alcoholic beverages in stock at our convenient location in Elkins, WV! Whether you need water, sparkling water, energy drinks, or coffee for your next event, get together, or to restock your fridge, we have your needs covered. We carry Voss Water, Quantum H20, DOA Energy drinks, and La Colombe Coffee.
Non-Alcoholic Beverages In-stock for Prompt Delivery
Check out our wide variety of refreshing non-alcoholic beverages! We have many choices available to help quench your customer's thirst, from water to coffee to flavored seltzer water. Your customers' favorites are in stock and ready to be delivered. Contact us to place an order or give us a call if you have any questions: (304) 636-1330. For over 45 years we have excelled in excellent customer service which is fundamental to our continued success in West Virginia! Raise a glass today. Cheers!
SELECT A NON-ALCOHOLIC BEVERAGE