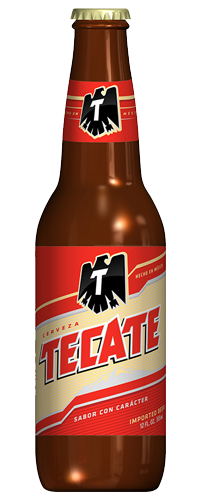 Tecate
Mexican Pilsner-style Lager
Tecate Product Information
Tecate is a pilsner characterized by a robust body and balanced flavor profile. Since the first batch was brewed in Tecate, Baja California Norte, Mexico in 1944, Tecate has been made with 100% natural ingredients. Cerveceria Cuauhtemoc is dedicated to delivering the golden colored brew to customers near and far. Tecate was the first canned beer in Mexico, and the company continues to develop innovations in packaging as the brand travels the globe. It is suggested that Tecate always be enjoyed in the company of friends while enjoying a sport such as football, or the boldest sport of all, boxing. Tecate Your Body!
Tecate is available in three distinctively bold flavors: Original, Light, and Diablo. There are no bad choices when you choose Tecate. Enjoy Original Tecate's crisp malt flavor and low to medium bitterness that finishes clean in this well-balanced bright golden lager. Tecate Light is the bold choice for customers who prefer light beer. Citrus nuances make this a unique and refreshing light beer. Like it picante? Tecate Diablo follows the classic Mexican recipe, delivering tomato juice, salt, lime, and other exciting flavors for a premixed beverage that wows with every sip. Born in Mexico, Tecate calls the entire world home. Follow the Black Eagle.

Original: 4.5 percent alcohol by volume. 141 calories per 12-ounce serving.
Cerveceria Cuautemoc Mectezuma, S.A. De C.V. – Monterray (Nuevo Leon), Mexico