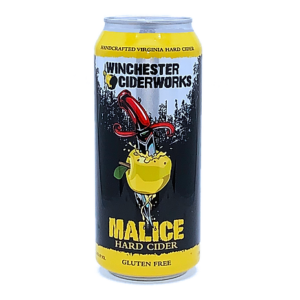 Winchester Ciderworks
Hard Cider
Winchester Ciderworks Product Information
Winchester Ciderworks is the unique product of Old World traditions with New World knowledge. Winchester Ciderworks ciders are aged for at least a year. They are pressed, fermented, and bottled from Frederick County apples. Winchester Ciderworks signature ciders are English style, off dry, and wonderfully refreshing. Winchester Ciderworks Barrel-Aged ciders are aged for nine months or more in oak barrels that were used for aging different spirits such as bourbon, rum, rye, and brandy, giving these ciders the subtle taste of the original spirits. Choose from the many delicious and refreshing flavors of Winchester Ciderworks Hard Cider flavors:
Signature Ciders: Malice, 522, Va-Ginga, Wyld Cide, Pious Pear, and the Dandy Shandy.
Barrel Aged: Wicked Wiles Bourbon, Wicked Wiles Rye, Wicked Wiles Brandy, Wicked Wiles Rum, and the Winston.
Specialty Ciders: Copestone, Sour Puss, Red Wine Barrel, Turmeric Chai, and Cyser.
Winchester Ciderworks – Winchester, Virginia