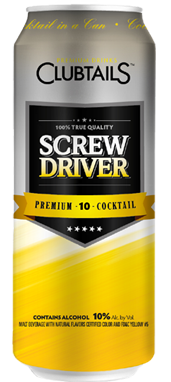 Clubtails Premium Drinks
Flavored Malt – Cocktail in a Can
Clubtails Product Information
Ready to party? Bring the club home with Clubtails' awesome Cocktails in a Can! Since 2013, customers who prefer a sweeter drink with a higher alcohol content have enjoyed the deliciously blended ready-to-drink convenience of Clubtails. Available in four original flavors, Bahama Mama, Sex on the Beach, Long Island Iced Tea, and Screwdriver, these refreshing cocktails offer maximum flavor based on a clean malt base. Enjoy the original party in a can today!
Need more flavor in your life? Clubtails new product line boasts eight additional delicious flavors, showcasing a brilliant dynamic between distinct taste, smooth drinkability, and a subtle kick to bring life to the party. The new flavors include: Peach Breeze, Alabama Slammer, Paloma, Blue Motorcycle, Lemon Drop, Strawberry Colada, Cuba Libre, and Sunny Margarita to cater to a variety of different taste preferences. These drinks contain less carbonation and more flavor, delivering a quality cocktail for our drinkers. Men and women alike are joining the revolution. Bring the party to you with Clubtails Premium Drinks today!
10.0 percent alcohol by volume. 200 calories per 16-ounce can.
Geloso Beverage Group – Rochester, New York
Buy Code: Y – JB Bootlegger
8473 CTAILS SBEACH 24/16 OZ CN
---
8474 CTAILS SCRWD 24/16 OZ CN
---
8475 CTAILS B MAMA 24/16 OZ CN
684746400074
---
684746801864
---
684746400067