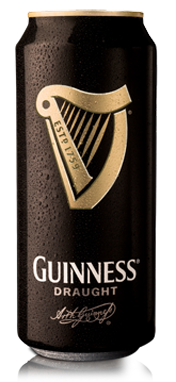 Guinness
Irish Dry Stout
Guinness Product Information
Since 1759, Guinness has been bringing exceptional beer to the people of Ireland – now the world. When Arthur Guinness signed his 9,000 year lease on the old brewery at St. James's Gate, Dublin and the first 6.5 barrels set sail for England, fate was sealed. Today, the legacy of Guinness continues to be "Made of More." From its sweet coffee and malty aroma and perfectly balanced bitter and sweet malt and roast taste to its smooth, creamy, and balanced finish, the distinctively dark, richness of Guinness lures you in.
Swirling clouds tumble as the storm begins to calm. Settle. Breathe in the moment then break through the smooth, light head to the bittersweet reward. Unmistakably GUINNESS® beer, stout, or draught, from the first velvet sip to the last, lingering drop. And every deep-dark satisfying mouthful in between. Pure beauty. Pure GUINNESS®.

4.2 percent alcohol by volume. 125 calories per 12-ounce serving.
St. James's Gate – Dublin, Ireland
Buy Code: I – GUINNESS
25205 GUIN BLK LAQ 4/6 11.2 OZ
---
74152 GUINNESS ½ BBL
---
74225 GUINNESS 4/6 NR
---
74304 GUINNESS 6/4PK 14.9 OZ C
---
74305 GUINN.DRAUGHT 11.2 4/6
---
74307 GUIN FOREIGN ST 6/4 11.2
---
74820 GUIN IRISH BEER 3/8PK CN
083820181142
---
[NO UPC]
---
083820123937
---
083820123609
---
083820104011
---
083820181166
---
083820123999