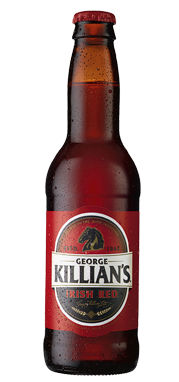 Killian's Irish Red
Amber/Red Lager
Killian's Irish Red Product Information
Since 1864, George Killian's Irish Red has been enjoyed at the tables of friends in Ireland. It enjoyed its well-received debut in America in 1981. This amber lager is a deep ruby color with rich foam and a full body with medium carbonation.
Complex roasted caramel malt and bready characteristics dominate the palate, followed by ale-like fruit esters for a distinguished taste best enjoyed with a hearty meal. The finish is subtly sweet and well-balanced, leaving a pleasant, slight citrus sensation that is easy on the tongue. This brew pairs well with steak, ribs, burgers, BBQ, and many other American classics. It also holds its own as one of the best beers available for sharing with good friends and good company anytime.
5.4 percent alcohol by volume. 163 calories per 12-ounce serving.
Coors Brewing Company – Golden, Colorado
Buy Code: C – COORS
14205 KILLIAN RED 4/6 LN NR