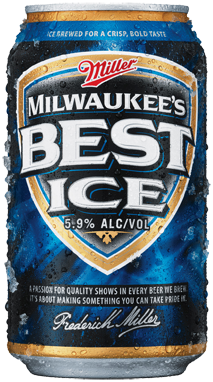 Milwaukee's Best Ice
American Pale Lager
Milwaukee's Best Ice Product Information
Milwaukee's Best has been pleasing palates since 1895. Milwaukee's Best Ice was introduced nationally in 1994, and has been winning awards ever since. Milwaukee's Best Ice is a refreshingly smooth, highly drinkable ice lager. With some of the best water in the country for brewing beer, the Menomonee River in Milwaukee, Wisconsin has been the source of choice since the 1850s – and continues to provide exceptional beer to this day.
The temperature of Milwaukee's Best Ice is lowered to below freezing during brewing to form ice crystals that impart the beer's mild smoothness and well-rounded taste– and its 5.9 percent alcohol content. Milwaukee's Best Ice is THE affordable pale ice lager for those who want to turn regular time into beer time.
5.9 percent alcohol by volume. 144 calories per 16-ounce serving.
Miller Brewing Company – Milwaukee, Wisconsin
Buy Code: A – MILLER
30240 BEST ICE 40 OZ
---
30302 BEST ICE 12 PK
---
30304 BEST ICE 4/6 CAN
---
30341 BEST ICE 30 PK
034100001513
---
034100306021
---
034100006679
---
034100303419