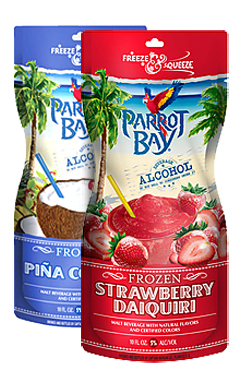 Parrot Bay
Premium Frozen Malt Beverages
Parrot Bay Product Information
Freeze & Squeeze! Parrot Bay's ready-to-serve frozen pouches let you enjoy a fun tropical drink with the great taste of Parrot Bay at home! Enjoying the drinks you love has never been easier – or more affordable. Perfectly mixed every time, just tear open and pour to serve – or enjoy straight from the pouch. This adult juice box takes you to your favorite tiki bar any time you like without the hassle.
Parrot Bay's frozen tropical drinks are made with all natural flavors, certified colors, and premium Parrot Bay rum for a refreshing frozen cocktail with a kick anytime. Enjoy the taste of freshly picked strawberries, mangoes, or tropical pineapples and coconuts straight from a breezy island beach to please the palate and quench your thirst. Flavors include: Frozen Strawberry Daiquiri, Frozen Pina Colada, and Frozen Mango Daiquiri.
5.0 percent alcohol by volume. 187 calories per pouch.
Diageo – London, UK
Buy Code: I – GUINESS
87213 P.B. PINA COLADA POUCH
---
87214 P.B. MANGO DAIQ POUCH
---
87215 P.BAY STRWB DAIQ POUCH
082000756163
---
082000756187
---
082000756200