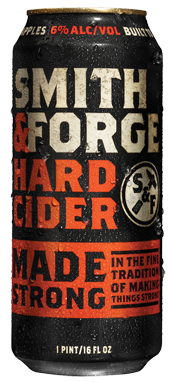 Smith & Forge Hard Cider
Hard Cider
Smith & Forge Hard Cider Product Information
Smith & Forge Hard Cider is Cider the Way It's Supposed to Taste. A hard cider made strong, in the fine tradition of making things strong. It is a sturdy drink for strong men. It is more than a cider, it is a link to your foredrinkers… a cider built to restore the grit and greatness to hard cider.
Our ancestors preferred their cider darker in color and richer in flavor. Hard cider was the most popular drink in America, preferred by the hardworking founders of our country. Made from Washington state apples grown in Memphis, Tennessee, Smith & Forge Hard Cider is American through and through. This hard cider is strong and sturdy, but not too sweet. It is certified gluten-free by the Gluten Intolerance Group, so gluten-sensitive drinkers: Rejoice!
6.0 percent alcohol by volume. 220 calories per 12-ounce serving.
Unchartered Cider Co. – Memphis, Tennessee
Buy Code A – Miller
8302 SMITH & FORGE 2/12 PK CN
---
8307 SMITH & FORGE 6/4 16 OZ
071990096878
---
087800000492