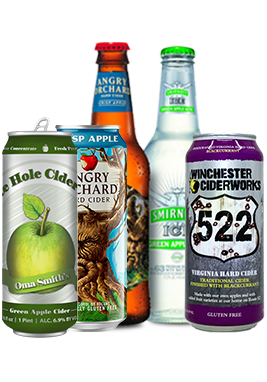 Ciders & Flavored Malts –
Tygart Valley Distributor in Elkins
For Barbour, Pocahontas, Randolph, Tucker & Upshur County WV Retailers
We need to be very clear: These are NOT beer! What we are offering here are more choices when it comes to quality options from the best name brands in the adult beverage industry. Made from intriguing ingredients and flavor combinations, including many refreshingly fruity flavors to tempt your taste buds, these exciting ciders, flavored malts, and specialty drinks expand your customers' horizons. Consider include some of these on your menu to provide all the best the beverage industry has to offer your establishment in Upshur, Barbour, Tucker, Pocahontas, and Randolph County, WV.
For over 45 years, Tygart Valley Distributor has brought you the most innovative and exciting beverage selections to keep your customers coming back. From traditional classics to the best newer names on the market, our carefully curated selection of fine specialty beverages offers a wide palette of unique, tantalizing flavors, right here in Elkins. Keep your shelves well-stocked with a balanced selection of favorites including ciders and flavored malts!
Import Ciders and Flavored Malts In-stock for Prompt Delivery
Check out our wonderful selection of ciders, flavored malts, and specialty beverages! We offer many choices to give your customers a nice selection to choose from. Help your customers find a new favorite today! Prompt delivery is available for all in-stock beverages. Contact Tygart Valley Distributor to place an order or give us a call if you have any questions: (304) 636-1330. Our dedicated customer service has been the key to our success in West Virginia for over 45 years! Raise a glass today. Cheers!
SELECT A BEVERAGE
Tygart Valley Distributor has been your authorized regional wholesale distributor for over 45 years. Our commitment is to you, our valued customer. We strive to deliver the freshest beverages to you with exceptional professionalism, care, and customer service. Thank you for your business!