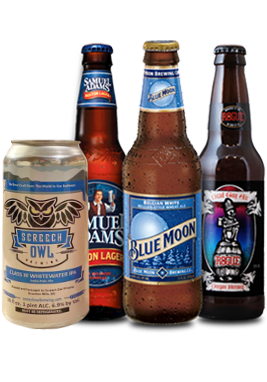 Craft Beer –
Tygart Valley Distributor in Elkins
For Barbour, Pocahontas, Randolph, Tucker & Upshur County WV Retailers
Looking for something distinct and creative? Explore unique flavors and brewing techniques of the highest quality from brewers passionate about the craft of beer brewing. Craft beer is the beverage of choice for customers looking for something different. Find the right brews to offer your beer lovers right here in Elkins at Tygart Valley Distributor. We offer the finest craft brews in the region for retailers in Upshur, Barbour, Tucker, Pocahontas, and Randolph County, WV. Keep your shelves well-stocked with exciting selections from the best craft brands in the nation!
Craft Beer In-stock for Prompt Delivery
For over 45 years, Tygart Valley Distributor has been your source for choice in beverage diversity. Choose from local, regional, and classic American craft beer favorites. See our selection for yourself and let us know how we can increase your beer selection. There's no need to wait for a special occasion to enjoy a specialty brew. Try a traditional or modern classic craft brew today! In-stock selections are available for prompt delivery. Contact Tygart Valley Distributor to place your order or give us a call if you have any questions: (304) 636-1330. Our great customer service has been the key to our success in West Virginia for over 45 years! Raise a glass of craft beer today. Cheers!
SELECT A BEER
Tygart Valley Distributor has been your authorized regional wholesale distributor for over 45 years. Our commitment is to you, our valued customer. We strive to deliver the freshest beverages to you with exceptional professionalism, care, and customer service. Thank you for your business!